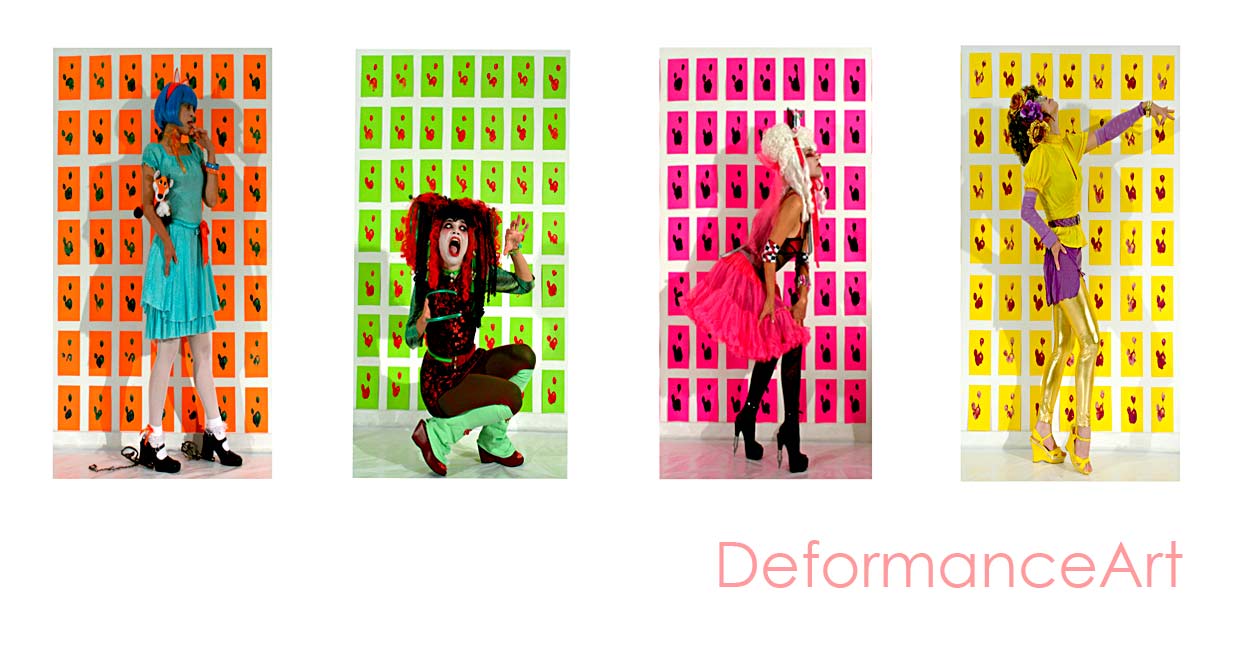 Liz Gibson is a "Deformance Artist" working in painting, sculpture, collage, video, installation, performance, singing and storytelling. Her art has been presented and exhibited in galleries, colleges and museums including performances at the Museum of Contemporary Art, Jacksonville, the Jepson Center at the Telfair Museum in Savannah and the Ringling Museum of Art.

She is also a lecturer and teacher. She presents slide talks about the themes and symbols in her art, she helps disabled children learn to express themselves through VSA Florida, and she teaches studio art at the University of North Florida.

She received three major artist grants in the last year including the 2014 Florida Individual Artist Fellowship.

Artist's Statement
The Four Deformance Art Characters
Performances and Static Artworks
Bio
Detailed Resume
Public Telelvision Profile of Liz Gibson 2014
Teaching, Lectures and VSA
Five Minute Video Of Four Deformances
"Learning 2 Tie" Deformance Video

Contact Liz Gibson at liz@deformanceart.com
On Facebook: http://www.facebook.com/DeformanceArt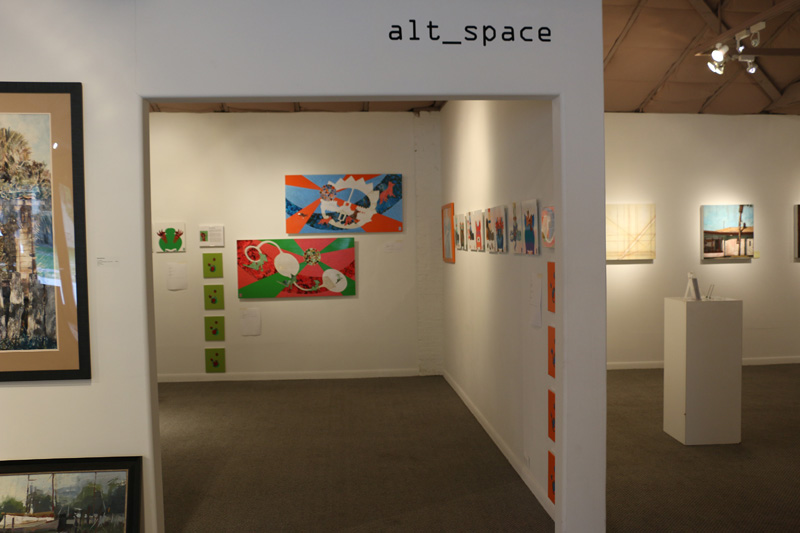 "Gesamtkunstwerk: A Synthesis of Arts" by Liz Gibson
Atlantic Center for the Arts, alt_space
New Smyrna Beach, Florida
On view: May 2 - June 13, 2015
Reception to Meet the Artist: Saturday June 6, 4-7pm
Artist Talk: Friday, June 12, 11am


Note: This view shows the exhibit during installation. The lighting and tags weren't set yet.
Scroll down for random photos of various "deformances" and artworks.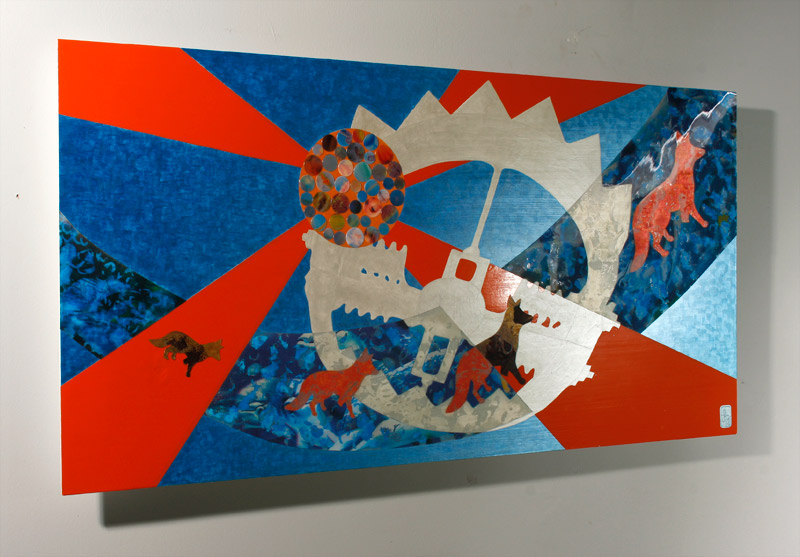 Liz Gibson, "Transformation of the 3 Legged fox", mixed media on wood, 24" x 48", 2014. This angled view shows the reflectivity of some of the collage materials. Form more views go to the Artworks Page.
This is from the "This Is War" performance at the One Spark Festival in Jacksonville. April 2014. More than 250,000 people attended the five day festival dedicated to innovation. Liz did four performances and had an installation featuring head cutouts with rotoreliefs that viewers could participate in by spinning from behind the panels. Tens of thousands had their pictures taken with their faces inside the cutouts.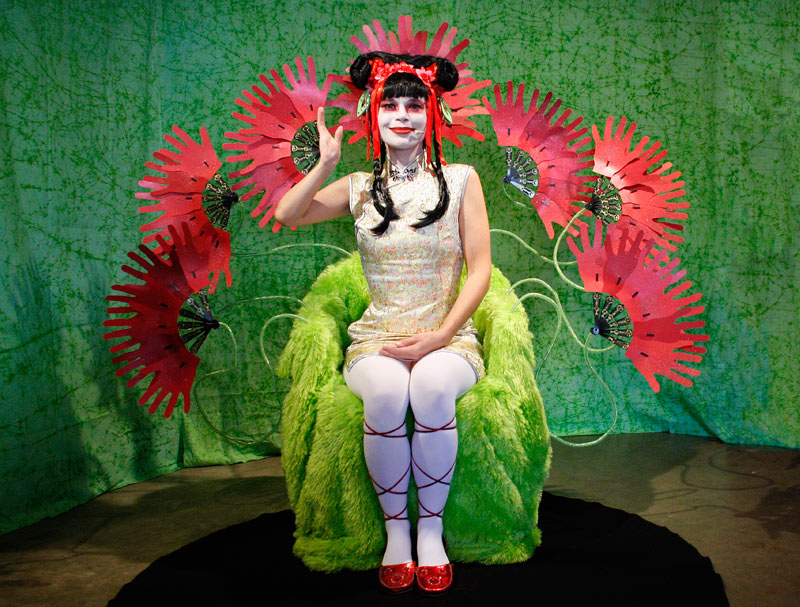 This is from the deformance of "The Luck of the Draw and Other Tales of Unnatural Selection" at the Indigo Sky Community Gallery in Savannah, Georgia. October 2013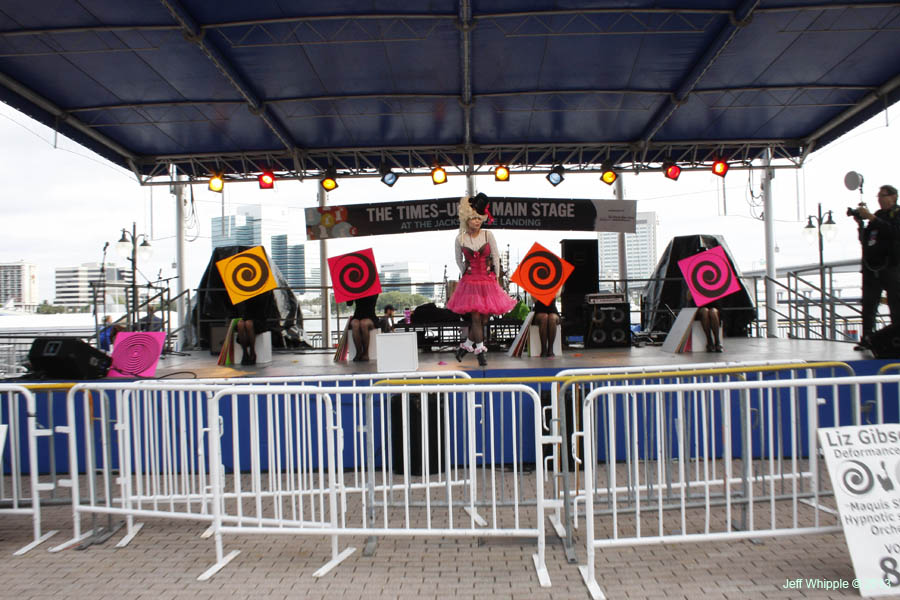 "Maquis Sha De's Hypnotic Stun Gun Orchestra" deformed at the Jacksonville Landing main stage for the One Spark Festival in April, 2013. CLICK HERE FOR MORE PICTURES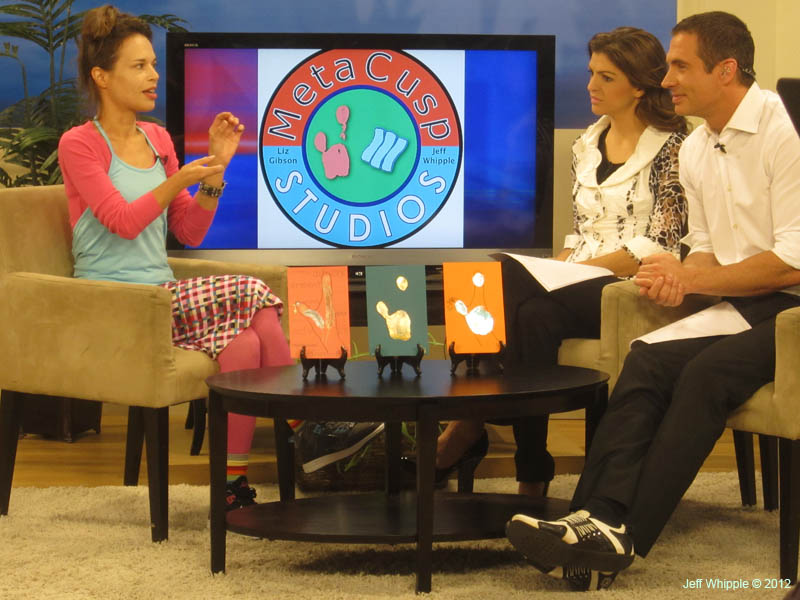 Liz Gibson on "First Coast Living" talking about her life and art. November 2012
CLICK HERE TO SEE THE INTERVIEW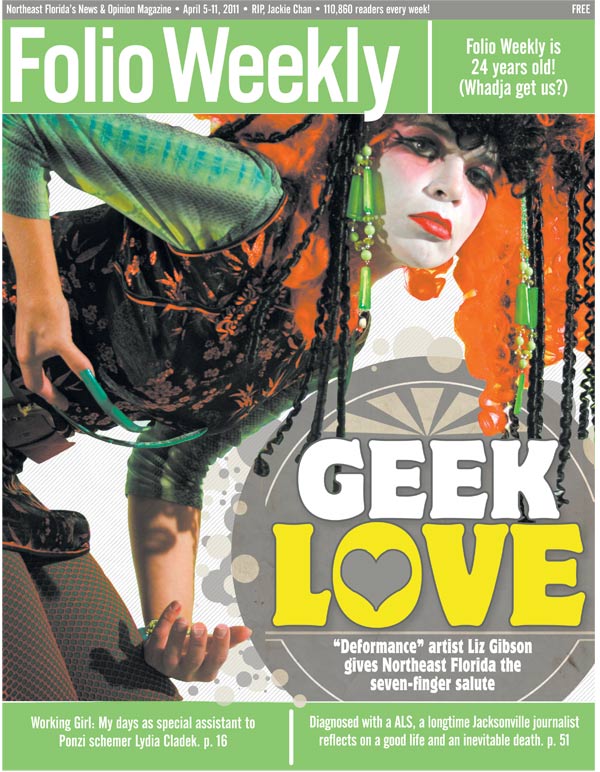 Liz Gibson on the cover of Folio Weekly, April 2011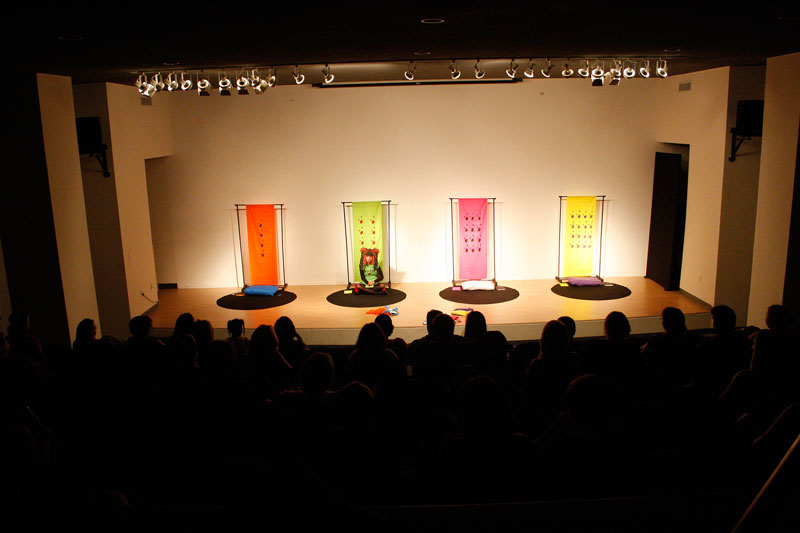 Liz Gibson performing at the Museum of Contemporary Art, Jacksonville, July 2011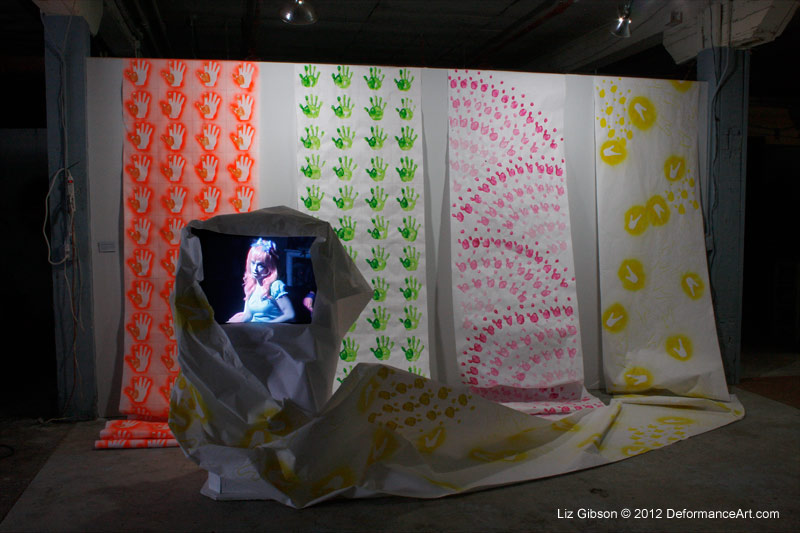 June 2012 installation with hand-prints and video. MetaCusp Studios, Jacksonville.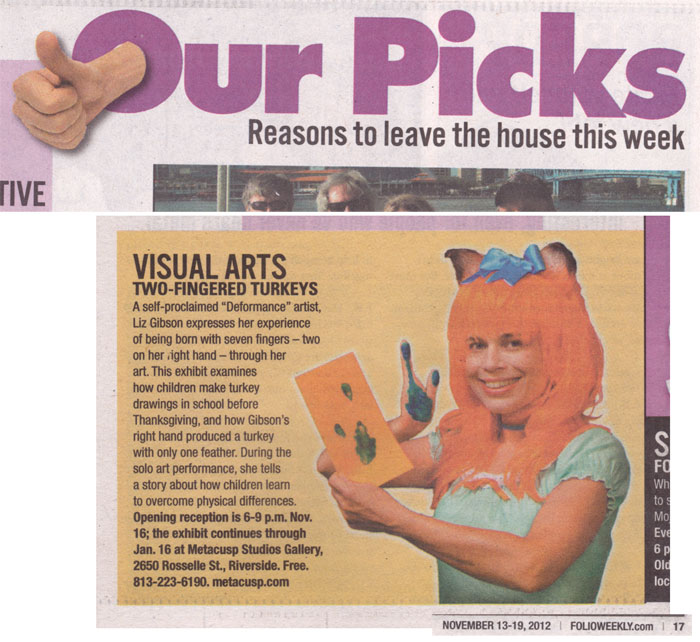 Folio Weekly, November 2012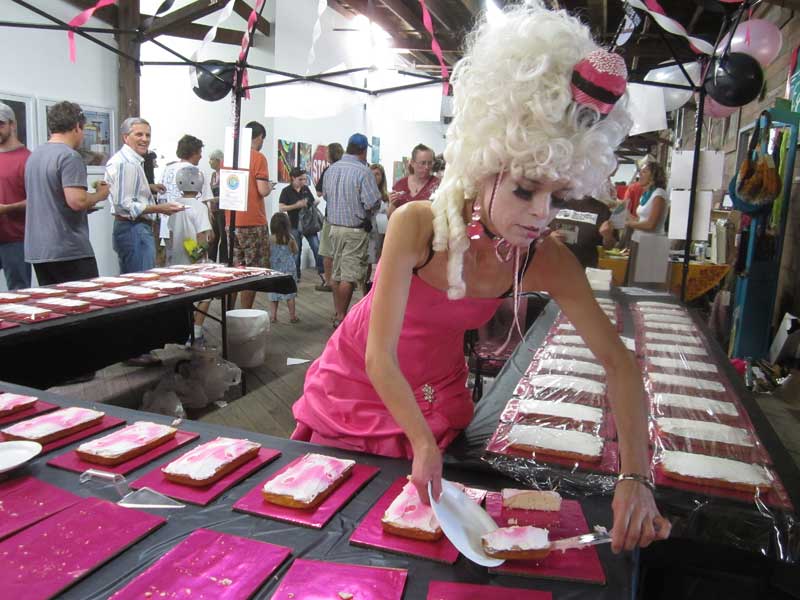 "Let Them Eat Cake", 5 hour performance, CoRK Studios, Jacksonville, Florida, 2012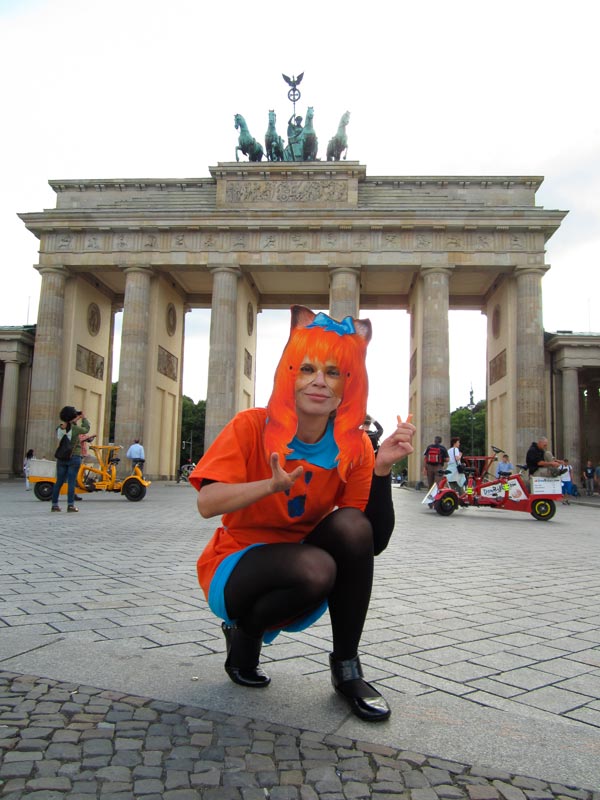 The 3 Legged Fox chalking hand tracings on the pavement at the Brandenburg Gate in Berlin, 2011

Liz Gibson designed billboard for "Embracing Our Differences", Sarasota, Florida, Spring 2012
All images and content © Liz Gibson 2015
DeformanceArt © Liz Gibson 2015